Kenya: An
albino elephant
has been born by the
wild elephant Jemima
around the 10th of December 2011, in Amboseli National Park. A rare sight, and probably the first albino elephant born in Amboseli.
More information about this elephant will be provided by the
Kenya Wildlife Service (KWS)
.
Burma:
In 27th of October 2011 a captive white elephant was born in
Naypyidaw Zoo (Nay Pyi Taw Zoo)
in Burma, most probably the first captive bred one documented. Naypyidaw is about 460 km (300 miles) north of Yangon.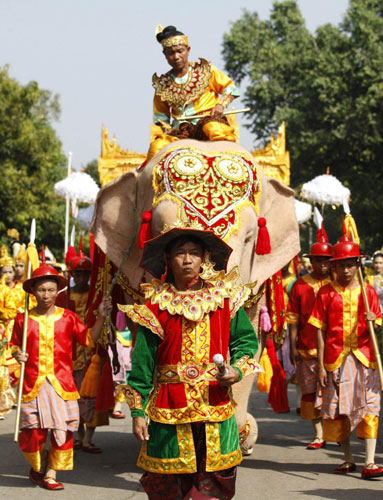 Dr Khyne U Mar, expert of elephants in Burma recently wrote me:

Naypyidaw Zoo (Nay Pyi Taw Zoo) now has 5

white

white

elephant

in the whole country! Myanmar caught two

white

elephants last month..First they have two

white

eles, then last month they caught two. and than last week one of the former female (was pregnant at the time of capture) gave birth this baby..

elephants.. In total 8 living

Rati Marlar Yadana White Elephant

,

Raza Gaha Thiri Pyitsaya Gaza Raza Yadana White Elephant

,

and Theingi Malar Yadana White Elephant

are kept in

Yadana White Elephants Garden

,
Botswana:
In March 2009, wildlife cameraman Mike Holding, while filming for a BBC wildlife programme, took pictures of the calf when he spotted it among a herd of about 80 elephants in the Okavango Delta.
Read more:
Pink elephant is caught on camera
Sri Lanka: On July 24 and 25 2004, Sri Lankan newspapers reported the spotting of a white (albino) elephant
in Yala National Park, Sri Lanka
,
a female named Sue, short for

Sudu-Aliya" which means "white elephant"
.
Although this was the first time that this had received wide publicity, Dr. Prithiviraj Fernando had observed this animal as a newborn in Heenwewa in 1993. In 1996 the same animal had been photographed in water by a group of enthusiasts. Read more:
White elephant in Sri Lanka
Laos: Vientiane Zoo in Laos has the bull
Chaya Mongkhul (Phrayachaiyamongkol),
which was
paraded in November 2000 with his mahout dressed in a
bright red costume guiding him. Chaya Mongkhuls mahout Phongsavan, his constant companion at the zoo, recalled the day with pride, "We had to walk to Vientiane, 70 kilometres in parching heat."
Im not sure this elephant is living anymore, though.
Royal Standard of Laos, 1949-1975
Richard Lair, in his book on Asian Elephants "Gone Astray", speaks of Vientiane's other white elephant having been a female, which would make it a less than perfect sample. Phongsavan admitted that there was another white elephant, but thinks she died a few years ago. There seems to be a certain similarity between this female white elephant's fate and that of the last Laotian King Savang Vatthana, who abdicated on December 2, 1975, and disappeared thereafter with other members of the royal family in communist re-education camps. Their deaths, like that of the king's missing white elephant, have been kept a secret up to present. Read more:
Laos's lone white elephant
Italy?
When I was training the african elephant
Rambo, later Tonga
, in Bussolengo safaripark close to Verona in Italy in 1998, they said that they had an albino elephant from Kruger park before. It must have been a
female who died in 1997
, but I have had no confirmation with picture on that elephant.
India:
In the past, Mysore Zoo in Karnataka, India, had a very pale elephant called
Ganesha (Swethavarna)
but he died in June 2000. When I first saw him in 1988, he looked allright, but two years later his condition had decreased, had long nails, and just stood chained allt the time, due to the release of his long-time mahout. He is claimed to be the father of
Chamundi (Magnum) at Amersfoort Zoo in Netherlands., which is possible, because I saw Chamundis mother Yashoda in Mysore both in 1988 and 1990.
Thailand:
Thailand have no white elephant any more, only "white elephants" a term for elephants with various appreciated charachteristics, like one extra nail etc. everything almost a science in itself.
But for sure, in the past, Thailand had many, and they have been documented since 1471.
Vietnam:
Ama Kong (
88 year old in 2003)
, was Vietnams most famous elephant trainer, living in
Yok Don National Park in Vietnam's Daklak province.
His most memorable catch was a beautiful albino female elephant. "She was entirely white, not even a black spot! I was very sad when we had to sell her," he said. "They later transferred her to Thailand as an offering to the Thai King. She was the only white elephant in my life
Read more: Vietnam's famed elephant tamer
Historical white elephants are also known, and some was also brought to Europe and America like Pawa. that was pictured with his owner.
Saw Durmay (Po Min) who captured him in 1919. Po Min took him in 1927 to
London Zoo
and
Ringling Brothers and Barnum and Bailey Circus
. Caught by, and owned by Dr. Saw D. Po Min, from the Karen tribe, this elephant is stated as being a white elephant, eventuellay an albino, since it was said to have had pink eyes.
"Pawah was a genuine albino, and the best appearing white elephant of all those that had toured with circuses, starting with the first in 1884. "He was always exhibited with a very dark elephant to profit by the contrast. Pawah and his master both died, it is understood, after their return to their native land the following year" C. G. Sturtevant, Elephants of the Circus, White Tops magazine, 1931
American circus
historicer Bob Cline
checked this elephant up, and it seems it was an albino:
Although there is no mention of Pawa in London, she (?) spent a few months at RP en route to America in 1926. I read somewhere that this elephant stopped off again in England on the way back to India in 1927/28. Pawas keeper San Dwe was the man responsible for the infamous "Elephant House Murder" of Sayaid Ali in 1928 (see Bartlett Society newsletter, September 2004 for more details)
Bob Cline, 2010
Toug-Toulog (Toung-Taloung, Buddha) was probably white:
1884:
He (Barnum) sent an agent, J. B. Gaylord, to Siam, with orders to buy or hire from the King, one of these creatures. The Siamese court met the proposition with an indignant refusal. Nothing daunted, Mr. Gaylord heard of a white elephant owned by a Siamese nobleman. He agreed to pay 100,000 dollars for it. It was smuggled down to Moulmein (Mawlamyaing), Burma (Myanmar), but, when on the point of being being transshipped to Singapore, it died of poison intentionally administered by some unknown person. Nil desperandum is Mr. Barnuns motto. He now offered 200,000 dollars for a sacred white elephant. This aroused the zeal of hundreds of active fortune hunters, and at length, after months of diplomacy and bribery, a sacred white elephant was purchased from King Theebaw of Burmah, the royal documents which record the transaction setting fort its genuineness. This creature is seven feet six inches high, and of a piebald color. His face, ears, the front of his trunk, and his front feet, and part of his breast are of a pinkish flesh color; the rest of his body is of light ashen hue. He arrived at Liverpool last seek by the steamship Tenasserim, and was at once taken on a special car, by the London and North-Western Railway Company, to the Zoological Gardens in the Regents Park. In his own country this elephant was called Toung Taloung, a name which the sailors on board the Tenesserim modified, after their custom, into "Old Tounge." As regards the adjective this is misnomer, the new comer, being only fifteen years old, is still in his boyhood. He has been re christened Buddah. His tusks are are remarkably fine. At the Zoological Gardens he occupies the apartment formerly tenanted by the much lamented Jumbo. who went last year (actually 1882) to push his fortunes in the New World. The house in question has been done up for his reception, and the walls and pilasters in front of the stall have been draped in green baize. On Saturday and Sunday last Buddha held grand receptions, and, despite the season of the year, the Zoo was crowded . Much interest was felt in Buddhas mahout, Radum Raddi, a half-breed Burmese, from the neighborhood of Mandalay. He was dressed in full national costume, and the contrast between the white of his dress and his dark, flowing hair was most picturesque. People were undeniably disappointed in Buddhas color. They had hoped to see a creature looking as Jumbo might look, supposing him to have previously tumbled into a gigantic flour bin. -Why do they call him white? asked a puzzled lady. -Well maam, was the reply, hes not werry white, perhaps, but then you see hes werry sacred
Scientific American, Supplement, New York, March 8, 1884
P.T. Barnum wrote:
Toung Taloung, the famous white elephant, which I brought from Burmah (sic), cost me $200,000. Like the public, I was greatly disappointed in him. He was as genuine a white elephant as ever existed, but, in fact, there was never such an animal known. The white spots are simply diseased blotches. My white elephant was burned to death at Bridgeport in November, 1887, and I cant say that I grieved much over his loss.
Old John (John L. Sullivan, Othello, Tiny, Light of Asia) at Ringling Brothers and Barnum and Bailey Circus
was in 1884 avertised by Adam Forepaugh as the white elephant Light of Asia. Though the fraud was exposed, Forepaugh continued to show the Light of Asia for the remainder of the season.
Elephant trainer William "Buckles Woodcock" writes on his blog:
Barnum's great rival, the Philadelphia showman Adam Forepaugh (Forbach), promoted a competing white elephant in 1884 as competition to Barnum's animal. Forepaugh called it the "Light of Asia." Its skin had been cosmetically treated to give off the desired alabaster. The crafty old German thought that a really "white" elephant would give his Adam Forepaugh Circus an edge over his hated rival Barnum [The Forepaugh show of the 1880s was the equal of Barnum's in both its menagerie and the arenic displays.]
However, the scheme was exposed. The Forepaugh elephant in question had been imported into England in July 1883 by the animal dealer William Cross of Liverpool. Cross' keeper, one George Gillespie, testified that he had looked after the animal since its arrival in Liverpool. It was an ordinary young male Asian elephant. Cross sold it to Forepaugh just before Christmas, 1883. The cosmetics were administered by Gillespie on instruction from Forepaugh's agent shortly before the animal left England for USA in March 1884. [See The New York Times, April 11, 1884.]
Some others were probably albinos, however theres no photos,they are only confirmed by text and color paintings.
Watercolour with pen and ink of the "Lord White Elephant", by Colesworthy Grant in 1855.
The elephant
Sinbyudaw (Lord White Elephant)
in
Amerapoora Palace of the White Elephant
in Burma.
Wade G Burck writes on his blog
'The colour of the animal was a cream or very light dun; his height was about ten feet, and his magnificent tusks nearly touched the ground...This noble looking animal has lately died, and there is none, it is believed, to fill his place. He had occupied his late royal position for upwards of fifty years, and was said at the time of the Mission (September-October 1855) to be about 60 years old...and he was said, also, at the time, to be sickly, or out of condition.